John Lennon "IMAGE WORLD PEACE"
JohnLennon2006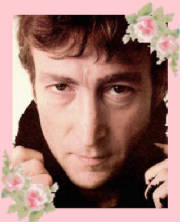 Updated 2008
Updated Site: 1/08 We must never forget "JOHN LENNON" for all he wanted was a Chance and Peace!
John Winston Lennon Born in Liverpool, Oct. 9 1940. Died in New York City, Dec. 8 1980.
He was named John after his grandfather and Winston after the great wartime leader, Winston Churchill.
When he was four years old, his parents separated and he ended up living with his Aunt Mimi. John consider his Aunt Mimi the greatest person.
His mother, Julia died before his 18th birthday. John did not like to talk about the death. It was a great sorrow.
At 16, John created the "Quarry Man". A friend introduced Paul McCartney to him. He asked him to join the group. The next day Paul introduced George Harrison to John. The first recording they made was called "That will be the day" by Buddy Holly. John came up with the name "Beatles". The Beatles were discovered by Brain Epstein in the Cavern. He became their manager. Their 1st single "Love Me Do", written by John Lennon.
John married Cynthia Powell in Aug. 1962, they had a son-Julian. John divorced Cynthia and re-married to Yoko Ono.
In 1970 the Beatles broke up. They started on their own solo albums. John started working on his album "Imagine".
In 1969 John&Yoko did a series of rock concerts as a statement of Peace&Love. John gave a charity concert in 1972. Held in Madison Square Garden to help improve the conditions of handicapped children.
In 1973, John&Yoko separated for alittle more then a yr., then reunited. Oct. 9 , 1975 Johns second son was born-Sean. John gave up his music career for 5 years. He raised his son-Sean. After the fifth year John realized that music was his life and in a period of 3 weeks he had wrote all the songs for "Double Fantasy". Double Fantasy was released in 1980. He then started working on his next album "Milk&Honey".
John Lennon was killed by a deranged fan on Dec. 8, 1980, as he returned to his New York apartment from a recording session of Milk&Honey". He was shot four times by Mark Chapman, right in front of the Dakota. Yoko watched in shock as her Husband&Lover was shot to death. John staggers up the steps into the lobby of the Dakota. HIS last spoken words, "I,M SHOT, I,M SHOT. His last movement, A NOD to reply to a officer "Do you know who you are".
So this is it, a few words and a nod and "One Beautiful Guy Is Dead" by the hands of a deranged fool, Mark Chapman.
Was their more to this murder? Were more involved? I guess we will never know. Just like another great hero John F. Kenndey. Why can,t this World live in Peace. So many dead Heros who only wanted the world to be united and live in Peace. God bless them all. And help us down here who want the same.
New Cd Collection released by Yoko. Collection of John's acoustic.
1) Love 2) Working Class Hero 3) Well Well Well 4) Look at Me 5) God 6) My Mummy's Dead 7) Cold Turkey 8) I'm a Man 9) Luck of the Irish(Live) 10) John Sinclair 11) Woman is the Nigger of the World 12) What You Got 13) Watching the Wheels 14) Dear Yoko 15) Real Love 16) Imagine 17) Its Real
Links